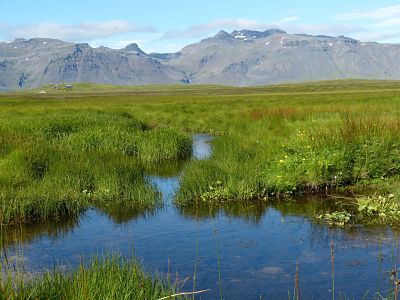 Travelling a little further from the city and experiencing the magnificent nature of Snæfellsnes, vegetation and geology. A bus tour round a large peninsula.  Hiking through selected areas on Snæfellsnes, visiting a national park, hiking along a rocky shore and exploring nature, dining at a restaurant and a choice of going swimming. Long day tour.
Travel by bus from Reykjavik to the Snæfellsnes peninsula.

Duration: Light hiking and nature watching 4-5 hours, total touring time 11-12 hours.
Preparation: Practical outdoor clothing, hiking boots, a rain coat and bathing suit (optional).
Food: One restaurant stop, additional stops will be made for sandwiches and food items you choose to bring.
Price: 23600 ISK
Months: June-August
Time: 8:30 am-20:30 pm
Botanical Tours in Iceland are speciality tours offered by Thund. Individuals can book tours, but at least 10 people must be booked for a trip to be made.
Please, be sure to book your tour at least 48 hours in advance
either by phone: 8647335 (within Iceland)

or by booking online in advance and we will contact you.
Once you have completed your purchase, you will receive confirmation of your order and pickup time and location.