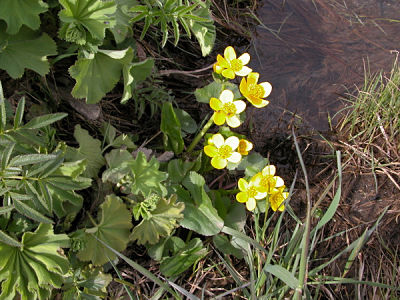 Welcome to this twenty sixth edition of Botany News!
Dear readers!
Welcome to Botany News, Thund's newsletter.  While snow and frost keep us inside, most of us are thinking about warmer seasons, the outdoors and summer expeditions. Perhaps you are thinking about the vegetation, whether it is the garden, green areas, or wild vegetation. Thund offers Botanical Tours and the main theme of the tours is the Icelandic flora while the tours are simultaneously educational about other natural phenomena and cultural traditions of Iceland. We offer light hiking, plant identification and observation of nature, while in the longer tours you are informed about the the country we drive through, e.g., the coasts, river banks, wetlands, geothermal areas, grasslands, heaths and woodlands. While allowing enough time to experience the nature and history of the country.
Thund currently offers four different tours and our team has good knowledge of the Icelandic flora and an interest in everything related to plants, nature and culture of the country. This knowledge is mediated to the participants that are often fascinated by such knowledge.
We hope you will come along on one of the tours to explore wild herbs, grasses and low-growing shrub and other wonders of nature while sensing the atmosphere of each place. By all means register for one of the Botanical Tours of the summer well in advance.
You are welcome to share the newsletter with email, blog, websites, tweets, and other media. We are always eager to receive links with other webs and social media pages with pertinent content, such as biology and ecology, eco-friendly and health-related tourism, culture or art, and green lifestyle.
--------------------------------------------------------------------------------------
Kind regards,
Soffía Arnþórsdóttir
BOTANY NEWS is issues by Thund, Hafnarfjörður, Iceland
9 February, 2022 -- Botany News, issue #026